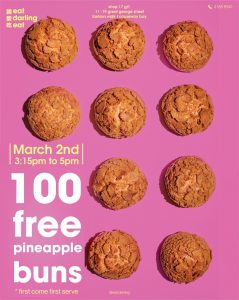 To all our sweethearts!
Your new neighbourhood dessert shop is here to spread sugar and love by giving away
100 free pineapple buns! We are having our grand opening and we could think of no
better way to celebrate, than to share the love and our delicious sweet treats with you! We
will be giving away a 100 of our signature pineapple buns to our first 100 customers on
March 2nd from 3:15pm to 5pm.
It will be first come first serve, till our buns last.
So don't be late and celebrate!
Come find us at:
Shop 17, Ground Floor
11-19 Great George Street
Fashion Walk, Causeway Bay