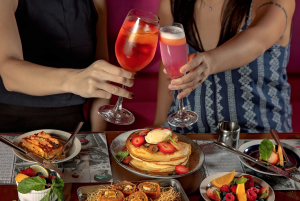 Friends, we all know that the true spirit of Christmas is the spirit of giving, which is why we
at Ming Fat House are thrilled to announce that Dr. Robben Fern, Frank Minza and Mrs.
Pound will be hosting a Christmas giveaway, all December long! From today onwards,
tell us 'What is your best Christmas tradition?' complete all details below, and we will
be selecting and announcing winners on 4 January 2019.
                                                The prizes to be won are:
                                      Dr Fern's Gin Parlour
                                   1. An afternoon tea set for two patients, inclusive of two pots of Dr. Paul's new Gin &
                                     Tea prescription valued at $498HKD 
                                  2. My exclusive Christmas Gin Box valued at $880HKD
                                  Foxglove
                                  1. An Executive Set Lunch for 4 pax valued at $800HKD
                                 2. Chef Hung's Signature Opulence Set Dinner for 2, with a bottle of wine valued at $1,500HKD
                                 Mrs. Pound
                                 1. A $600HKD brunch voucher
                                2. A private cocktail making masterclass with my bar manager Austen, for 4 dolls valued at $1000HKD
                                Frank's Library
                                1. $500HKD cash voucher to spend in my Library and
                               2. A Private cocktail making masterclass with my beverage bar manager Gerry, for
                                  you and 3 friends valued at $1500HKD